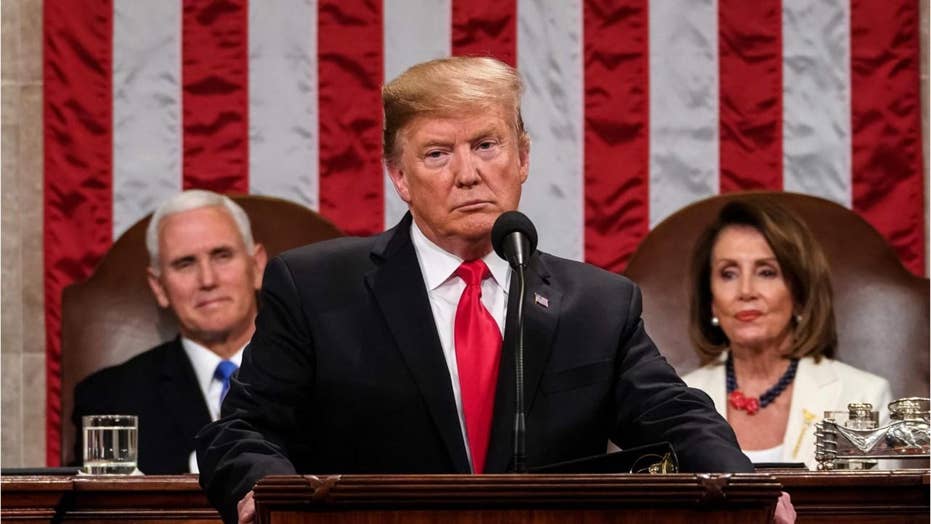 Late on Tuesday evening, President Donald Trump delivered his State of the Union address in Congress; his second of his presidency so far. The speech comes against a difficult backdrop for the President: firstly, this address follows the Republicans' loss of the control of the House of Representatives to the Democrats, which weakens the President's power in Congress and is still fresh in the minds of both parties in Washington. Secondly, the US Government has only just emerged from a lengthy and painful government shutdown – the longest in US history – which delayed the address; there still remains the risk of another shutdown in the weeks to come if spending agreements cannot be reached. However, here are the six key points we can take from Tuesday's State of the Union address, and what it tells us about the state of American politics as well as the Donald Trump Presidency.
The President painted a positive view of America
Donald Trump used his address to highlight positive movements in terms of economic growth, job creation and energy production among other things that have been accomplished under his administration. The President said that an amazing quality of life for all Americans is within reach, and even said that Congress had priorities to lower drug prices and to protect patients with pre-existing conditions, which gained almost instant approval from Democratic House Speaker Nancy Pelosi. There was even a nice moment where the President paid tribute to all the women serving in Congress, 100 years after women were given the right to vote. There was a visible core of women Representatives in the chamber who were dressed in white to mark the occasion, and this mention was a cause for great cheer from them. In spite of anything else that may have happened, it was quite a touching moment in the address. This marked a welcome departure from what some commentators were expecting from his address, which they felt could be an aggressive anti-Democrat speech.
The President struck an early bipartisan tone…
One of the President's most notable tones at the start of his address were his calls for bipartisanship, including calls for Congress to choose greatness over gridlock, and for America to "reject the politics of revenge, resistance and retribution". Trump stated that "victory is not winning for our party. Victory is winning for our country", continuing on from the vision he set that continued American greatness can be achieved if both parties come together. With the loss of the House of Representatives to the Democrats, Trump himself is going to need to rely on bipartisanship to avoid gridlock over the next two years, as well as – crucially – another shutdown.
…But it didn't last long
Before too long, however, Trump turned his attack on the Mueller investigation in all but name, which he referred to as "partisan investigations". Trump told Congress that, if they want peace and legislation, there cannot be war and investigation, and that the investigations should be brought to an end. Essentially, Trump's argument is that America can't pursue economic growth if they're busy investigating him, his campaign, his taxes and his company among other things. Some commentators have likened this to Richard Nixon's 1974 State of the Union address, in which he called for an end to the Watergate investigations, saying "One year of Watergate is enough." Calls for bipartisanship are one thing, but we can be fairly sure Trump will blame the Democrats for obstructing him as the investigations continue.
Furthermore, there was quite possibly another shot at the Democrats during the President's calls for bipartisanship when he called for an end to the politics of "revenge, resistance and retribution"; the word "resistance" has been used to refer to those groups who vehemently oppose Trump; perhaps this was a nudge to those groups? CNN immediately followed that statement with a shot of an angry-looking Alexandra Ocasio-Cortez, so perhaps that was how it was meant. There was also criticism aimed at Democrats for not voting through his plans for the Southern Border Wall.
Trump stuck to his guns and his base
On the subject of the Wall, any need for compromise or no, Trump is not going to be letting this one go. The President quickly turned to matters of the southern border and national security, of caravans and cartels and illegal immigration. He made sure to give time to discussion of the wall (or the fence made of vertical steel slats as it may end up being), how Democrats had previously voted on it but never delivered it, and that he was prepared to finish the job, saying "I will get it built". It sounded at this point like the President was addressing his supporters, rather than congress, as he turned to illegal immigration and how he intended his Wall to help in the fight against it. Even issues like school choice were good rallying cries for grassroots Republicans.
Trump even hit on some uncomfortable points, including attacking new abortion legislation in New York and Virginia, further talks with North Korea, and the US's withdrawal from the Intermediate-Range Nuclear Forces Treaty (INF Treaty) with Russia. But it's all red meat to his supporters who don't want to see him going soft in the face of Democratic opposition. Donald Trump is willing to compromise, just not too much.
A lot of Democrats have still not been won over…
Some Democrats are still vehemently opposed to Donald Trump, and probably will be for as long as he's around. This was visible in some of the reactions to the address in the faces of some of the seated Democrats. Chuck Schumer was often seen with looks of pained and sometimes amused endurance, and there was shots of eye-rolling from Senators Kirsten Gillibrand (NY) and Kamala Harris (CA). Mention has already been made here of Alexandra Ocasio-Cortez.
Others cheered him, with Democratic Senators including Joe Manchin (WV) and Jon Tester (MT) drumming up some degrees of enthusiasm, although they will still hold an awareness of Trump's popularity within their respective states, and so will need to be seen as on-side with the President occasionally. For other Democrats however, the partisan divide is still clearly visible, and Tuesday's address will probably not have been enough.
…But 2020 presidential challengers are weighing him up
Depending on whose coverage of the address you were watching (I was watching CNN), it was almost guaranteed that there would be multiple shots of Trump's possible Democratic challengers in 2020: Kamala Harris, Kirsten Gillibrand, Elizabeth Warren and even Bernie Sanders were all shown not just as present in the chamber for the address, but in quiet observation of the President. They will be looking for his weaknesses and to see where there are gaps, and where he is failing to deliver. The 2020 election is still just under two years and another State of the Union address away, but the road to the election is well underway, and potential candidates have a lot of constituency-building to do. Can they push a better line than the President on infrastructure, the economy and jobs, particularly in blue-collar states neglected by Democrats in recent years? It is highly likely that, in the chamber last night, Donald Trump was being stared down by his 2020 opponent.
Overall, Donald Trump is a complicated man with a complicated presidency. His State of the Union address called in part for compromise and bipartisanship, but at other times an unwillingness to deviate from his own personal agenda. Tuesday's State of the Union address was a lot like what we've come to see from Donald Trump in his major public speeches as President, so really there weren't many surprises. However, positive or not his view of what America can achieve if people come together, it is highly possible that we just go straight back to a partisan stalemate following the address: the threat of a new shutdown is still looming, and if Trump is as rigid as he was throughout December and January, then there will be little from the address or his personal agenda which can be accomplished. As it stands we may have between two and six years of the Trump Presidency left, and it's unlikely this address will ultimately go any way towards making those years productive.